The script for the new "Star Wars" movie is online. Well, a photo of it. At least I think that's what it is. The folks over at BadRobot tweeted this out.
Hot off the presses. Can you guess what's behind the cover? #FoundAtBR #MysteryScript pic.twitter.com/VFvoxedpqC

— Bad Robot (@bad_robot) July 17, 2013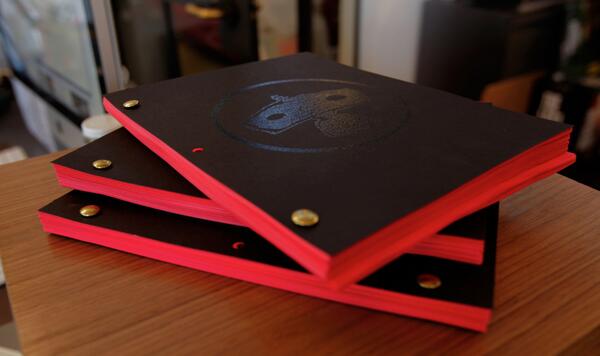 Okay, so not anything amazing, but intriguing nonetheless. I guess it makes sense that the script is finished since they are set to start filming in about six months. Though, it does make me a little nervous to think that it only took a handful of months to complete. Perhaps, George Lucas gave Michael Arndt more of an outline than we initially thought.
And speaking of the story, characters may actually drive this movie instead of CGI special effects. At the Star Wars Celebration Europe, the new head of Lucasfilm, Kathleen Kennedy told a packed crowd 
"The story and characters are all we're talking about right now. We have an amazing team at ILM, who can create fantastic effects, but if we don't have a great story and characters, the effects mean nothing."
 The CGI aspect is intriguing because it could mean that the producers of Episode VII are actually listening to the fans and not just interested in attracting new ones (ie "The Phantom Menace"). Many old school fans like myself believe that the next movie should be a nice mix of models and perhaps some CGI background. I think that's really where CGI soars anyway, not in unbelievable characters that look cartoonish. I'm talking to you Jar Jar Binks and Dexter Jettster!
And it seems that's exactly the direction they are going, if we are to believe Ms. Kennedy.
"It's a conversation we're having all the time in the development of Episode VII. Looking at all the Star Wars movies and getting a feel for what even some of the early films did, combining real locations and special effects – that's something we're looking very seriously at. So we're going to find some very cool locations that we're going to use in support of Episode VII. And I think we're probably going to end up using every single tool in the toolbox to create the look of these movies."
I mean what would you rather see the Millennium Falcon…
Or this…
Kennedy elaborated her point by saying this…
"It's using model makers; it's using real droids; it's taking advantage of artwork that you actually can touch and feel. And we want to do that in combination with CG effects. We figure that's what will make it real."
So, all of that sounds quite promising. Is she just they'll use old-school methods and then completely go CGI? Maybe. It's happened before when Lucas promised Episode II would be better than Episode I. But, all he really did was replace awful character #1 with awful acting character #2. Anyway, I'm hopeful.
And certainly the best thing about Episodes I through III was the score. That was created by non-other than the great John Williams.
He has signed on for all three of the films in this trilogy. However, I will point out one morbid thought. He is 81 years old. Don't get me wrong, he's still going strong. But there is an outside chance that he may not make it for the entire trilogy. Which would be tragic for Star Wars fans and an enormous loss to the movie world. Here is what he had to say about composing music for three more movies.

And I'll end with a few crazy casting rumors. The good people over at Latino Review claim that Leonardo DiCaprio actually went to a meeting about the film, but that didn't work out. But now, they say two of the top candidates for parts in the seventh film in the series will be heartthrobs Ryan Gosling and Zac Efron.
Their sources say that Gosling would be playing Luke Skywalker's son. And shockingly enough, I don't hate either of these choices. Both are pretty good actors and even though he's got serious Disney teen roots, Efron is actually likeable. However, Gosling's reps told the Huffington Post those rumors are not true. Efron's on the other hand refused comment. I think these types of rumors will continue until Disney's convention in August when they reveal the cast. At least that's when I'm guessing they will make an announcement.
Those are the headlines for this week. Until next time, may the force be with you, always.